Indonesia tsunami: Relative in Moray speaks of family contact trauma

Indonesia tsunami: Relative in Moray speaks of family contact trauma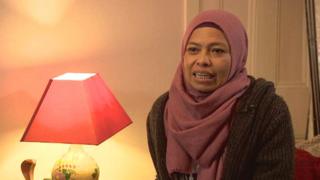 A woman living in Moray has spoken of the trauma of trying to find out about relatives caught up in the Indonesian tsunami.
The disaster struck part of Sulawesi late last month, leaving about 2,000 dead and thousands more injured.
Indonesian officials said the search for victims was ending on Thursday.
Evi Yuniarti - more than 7,000 miles away in Tomintoul - is still to make contact with some family members, and plans to return.
'Did n ot answer'
Her home city of Palu was the hardest hit.
It took five days for her to hear her parents were alive, however a young nephew was among the dead, and the fate of other relatives is not yet known.
She said: "Straight away I tried to contact my mum, she did not answer. They are now camped outside the house.
"I do not know how many (relatives) are injured."
She added of her relative she knows died: "Something fell onto my nephew.
"It's hard, I want to do stuff, it's your family. Money is no use."
Tsu nami warning systems: How reliable are they?
How Palu suffered a 'worst case scenario' tsunami
How warning system failed the victims
Why Sulawesi's tsunami is puzzling scientists
The 7.5 magnitude earthquake struck on 28 September, bringing down buildings and in some areas turning the ground to liquid - in a process called "liquefaction" - and moving entire neighbourhoods.
This was followed by the tsunami.
Scientists believe the tsunami may have been set off by an underwater landslide.
The Red Cross estimated that more than 1.6 million people have been affected.
Source:
Google News Indonesia
|
Netizen 24 Indonesia